BEAUTIFUL SMILES FOR A LIFETIME
95 DUTCH HILL ROAD
ORANGEBURG, NY 10962
(845) 359-8424
Invisalign Teen®
We are a Certified Invisalign Teen® Provider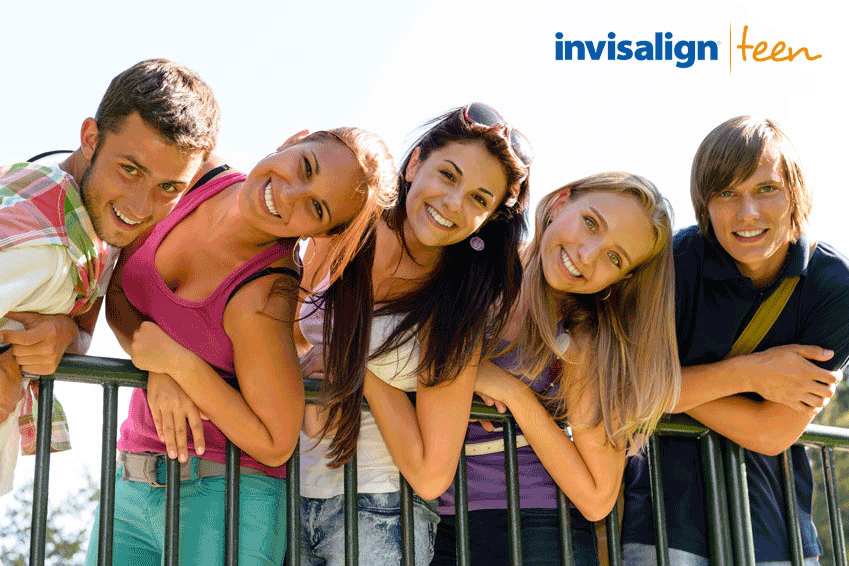 Bummed out about having braces? Invisalign Teen aligners give you a whole new way to wear braces for a "clearly" amazing smile!
"I have enough to worry about…
now I need braces, too?"
The team has a game this Friday night, homecoming is in a month, and what about my yearbook pictures?! Don't stress! During your Invisalign Teen treatment you won't need to turn down any dates, wear a paper bag over your head, or hide out in your room for two years! Invisalign Teen aligners are a perfect fit for your lifestyle, because aligners are:
Clear
Removable
Super comfortable
Customized just for you
Pizza, Popcorn … No Problem!
You've probably heard from friends that with braces you won't be able to eat anything. With Invisalign Teen aligners, you can eat whatever you want!
Unlike traditional metal braces, your Invisalign Teen aligners are removable, which means you can go ahead and eat all the things you love without worrying about breaking a bracket or losing a rubber band. Cheers!
It's your life; keep it that way!
Invisalign aligners are really comfortable and very durable. They fit in with any of your extracurricular activities. So whether you're swimming the 50-meter race, throwing the football out on the field, or playing the clarinet with the school band, you don't have to worry about your braces getting in the way!
Our Location

Dutch Hill Family Dental
95 DUTCH HILL ROAD ORANGEBURG, NY 10962 (845) 359-8424
Office Hours
MONDAY
11:00 am – 7:00 pm
TUESDAY
8:30 am – 6:00 pm
WEDNESDAY
7:00 am – 2:30 pm
THURSDAY
8:30 am – 6:00 pm
FRIDAY
8:30 AM – 3:00 PM
Open select Saturday's
8:00 AM - 1 :00 PM
SUNDAY
CLOSED
KIND WORDS FROM OUR PATIENTS
Dr. Tom and his fabulous hygienist, Cathy, provide wonderful care for my family! I have referred many friends and colleagues who have been quite pleased with the services at this practice. The music is great too!
Very professional, great environment , recommend highly.
Dr. Thomas Pizzolo and his hygienist Cathy are knowledgeable professionals. What I liked- answered all my questions, clean office, good attitude, put me at ease. Additionally, I liked the fact that Dr. Pizzolo called me about my concerns regarding orthodontic treatment that I'm about to get from my orthodontist.
It takes that extra step of personal approach to each patient to be different from the corporate world.
I'm not really good at going to the doctors or especially dentists. This time I'm actually planning on going back for my next appointment in May and I'm looking forward to it.
I have been a patient for roughly 25 years, since I was a small child, and have always had pleasant and positive experiences during my many visits to Dr. Pizzolo's office. The entire staff is friendly, professional and extremely skilled at what they do.
I have never dreaded going to the dentist and I contribute that to the people here and knowing that I have always been in good, capable hands. I have recommended this family practice to many, and will continue to do so!
Outstanding Customer Service! My dentist is out of town and I had a dental emergency. She called me and told me to come and see Dr. Pizzolo. Both Dr. Pizzolo and his office staff were friendly, kind and patient. What a lovely reminder that customer service and compassion are still a core value for people. Thank you for treating me like part of the family.
I have visited Dr. Pizzolo and Dr. Elashmawy on several occasions and have found them to be very professional, understanding and knowledgeable. They listened to my questions and concerns. Appointments are easily made and they are "on time" with my appointments. Their staff is very friendly and helpful. I would highly recommend them.